: : Plop Drop ™ - March 23, 2013 - 12:00 Noon - 4:00 PM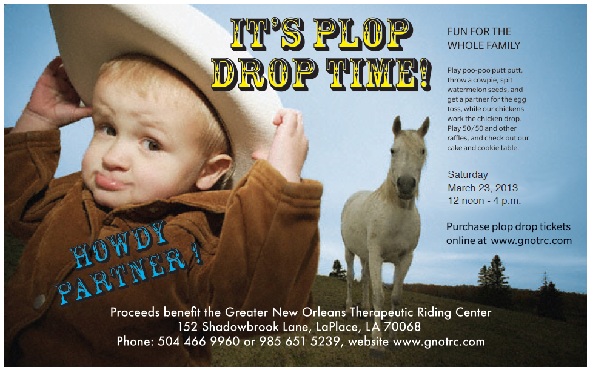 At noon we'll turn our two plopers loose, and wherever they "drop" their "plop" the owner of the ticket for that square wins $1,000.
INSTRUCTIONS: We have sold out of Pink Tickets .... But no matter - We have lots of Teal Blue tickets for you to buy ...
Please select the number of Teal Blue tickets and then click on the "Donate" button. Then finish the purchase by choosing "Proceed to Checkout" GNOTRC - Plop Drop ™ Tickets - Teal Blue - $10 each
Plop Drop ™ March 23, 2013 - It's Plop Drop Time !!!
TWO Plop Drops - TWO chances to win - $1000.
We will draw 400 squares in our arena, and will sell 400 tickets for each of the two Plop Drops. We will have HOT PINK Tickets for one, and TEAL BLUE tickets for the other. You can buy tickets for both if you would like.
Pay with by Pay-Pal .....You can now pay online with Pay-Pal. You can use your credit card or debit card to pay online. You can use any credit card, and you do not have to have a PayPal account. You will get a receipt by e-mail.
IMPORTANT: If you pay online you must print your PayPal receipt and bring it with you to the Plop Drop to receive your tickets. You may also arrange with Anita to pick them up ahead of time.

If you have any questions e-mail Anita at ------ anita(@)GNOTRC.com - You can contact GNOTRC at 985-651-5239, 504-466-9960, P.O. Box 23284, NOLA 70183.


Greater New Orleans Therapeutic Riding Center

P.O. Box 23284
New Orleans, LA 70183-3284
(504) 466-9960 or (504) 651-LADY