The Greater New Orleans Therapeutic Riding Center is a non-profit organization that was founded to help provide a fun and therapeutic experience for individuals with physical, emotional and learning disabilities. GNOTRC is a Professional Association of Therapeutic Horsemanship (PATH International) member operating center.


Harley For Horses 2017 - Sunday, April 23, 2017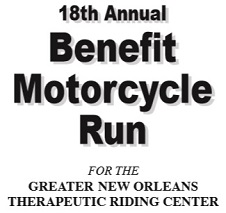 Early Registration till friday April 14 - Get Your Free T-Shirt !!
Join us on April 23, 2017, for the Harley for Horses Benefit Motorcycle Run to benefit the Greater New Orleans Therapeutic Riding Center>, a nonprofit organization dedicated to the well-being of children and adults with disabilities through horse assisted activities. The organization was founded in 1993 with four students and two horses. Today, the riding center serves many riders with disabilities, and has a stable of nine horses.

The Harley for Horses Benefit Motorcycle Run is open to riders of all makes of motorcycles. The run began in 1999 when GNOTRC was given a pet pig named Harley, which has become the mascot for this event.


>>>> CLICK HERE <<<<<< To download the 2017 Registration form - All RIDERS MUST MAIL THIS IN.

IMPORTANT: All riders must mail in the completed registration form with all information filled out No Exceptions. To make payment - mail in your check with the completed form or pay on PayPal - use this link below.

>>>>>>>CLICK HERE<<<<< To Purchase Tickets Online for Harley For Horses 2017

This year's motorcycle run is set to depart at 11:00 A.M. on April 23, 2017, from the LaPlace Travel Center at 4325 Hwy. 51 in LaPlace. Registration will start at 9:00 A.M. The route will take the run for lunch at Manny's Bar, 19706 Highway 22 in Maurepas, and end at Airline Motors, 221 E. Airline Hwy., in LaPlace with music and a raffle following the run.

Once again, this year's Harley for Horses Benefit Motorcycle Run will be dedicated to fallen St. John Deputy Brandon Nielsen, who organized and also escorted the ride for many years. Proceeds at the door will benefit the families of thee Fallen four.

CLICK the DONATE button below: