The Greater New Orleans Therapeutic Riding Center is a non-profit organization that was founded to help provide a fun and therapeutic experience for individuals with physical, emotional and learning disabilities. GNOTRC is a Professional Association of Therapeutic Horsemanship (PATH International) member operating center.


It's Plop Drop ™ Time !!!
FUN FOR THE WHOLE FAMILY
Saturday, October 22 - 12-4pm - Plop Drop ™ 2016
TWO Plop Drops - TWO chances to win - $1000.
Play poo-poo putt putt, throw a cowpie, spit watermelon seeds, and get a partner for the egg toss. All while our chickens work the chicken Plop Drop. Play 50/50 and other raffles and check out our cake and cookie table.
All Proceeds Benefit the GNOTRC.
CLICK ON IMAGE TO PURCHASE TICKETS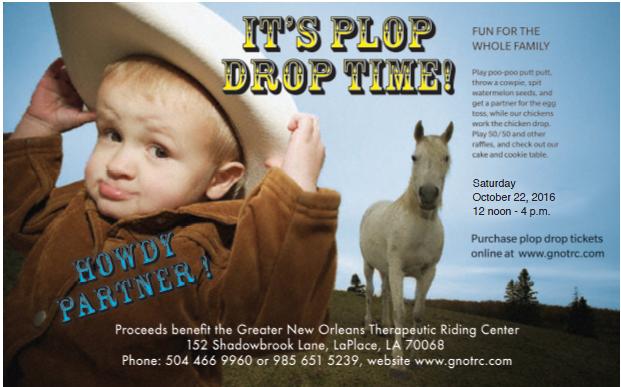 Plop Drop ™ Saturday - October 22, 2016 - 12-4pm
TWO Plop Drops - TWO chances to win - $1000.
We will draw 400 squares in our arena, and will sell 400 tickets for each of the two Plop Drops. We will have HOT PINK Tickets for one, and TEAL BLUE tickets for the other. You can buy tickets for both if you would like.
---------------------------------------------------------------------
Connect with and LIKE us on FACEBOOK - CLICK BELOW

---------------------------------------------------------------------
The Greater New Orleans Therapeutic Riding Center is a non-profit organization that was founded to help provide a fun and therapeutic experience for individuals with physical, emotional and learning disabilities. GNOTRC is a Professional Association of Therapeutic Horsemanship (PATH International) member operating center.



We are located just west of New Orleans, Louisiana in Laplace on the Dove Ranch at 152 Shadowbrook Lane.

CLICK HERE >>>>>>>> To see a map showing where we are.
CLICK HERE >>>>>>>> To read driving instructions

For individuals with disabilities, equine-assisted activities have been shown to improve muscle tone, balance, posture, coordination, motor development as well as emotional well-being. And it's fun!

To see individuals with disabilities ride horses is truly an unforgetable experience. Not only do they sit taller and smile more, they extend their dreams beyond the confines of their disability, into new, unexplored worlds. Riding exersizes the spirit as well as the body.

You can make a difference in the lives of these individuals by becoming involved with the GNOTRC and with PATH Insternational. The center is always in need of volunteers, riders, instructors, therapists, and horses. We also need financial sponsors for our riders and horses, and for the necessary equipment and feed.

All contributions to the center are tax deductible.

Click on the items listed below to see more information about each :


You can e-mail the Greater New Orleans Therapeutic Riding Center or contact us by phone or mail.




^ back to the top ^




Greater New Orleans Therapeutic Riding Center

P.O. Box 23284
New Orleans, LA 70183-3284
(504) 466-9960 or (504) 651-LADY